Bio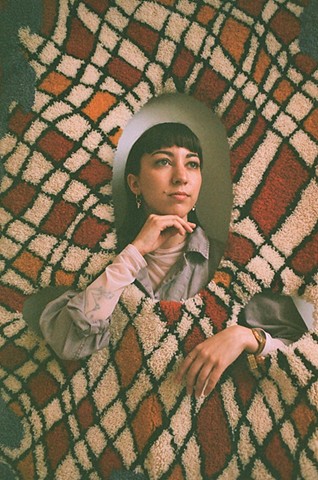 Sam Crow is a Brooklyn based artist that operates between the worlds of textile, design, craft, and art to create contemporary hand tufted rugs. She draws from the hard-earned skill and long-time traditions of rug making to create her own vision through yarn. Sometimes functional, but not always, her work seeks to expand the notion of what a rug is and its purpose in our modern culture. Focused on the laborious process of creating textiles and the right of passage each maker earns, she works to find a balance between new technology and past tradition with a clear conscience. Her visual imagery seeks to combine these concepts of slow traditional American craft with a digital and modernized view of shaping, color, and function.
Sam Crow received her BS in Fashion Design from DAAP at The University of Cincinnati as well as her Professional Certificate of Haute Couture Embroidery from Maison Lesage in Paris, France. She currently lives and works in Brooklyn, NY.
All work is one of a kind, designed and hand-produced by Sam Crow. Don't hesitate to reach out with personal requests, commissions or retail opportunities. You can do so at samcrowrugs@gmail.com To take care of one of our rugs, it is best to stick to vacuuming on a normal suction setting, no brush, as it will wear down the rug faster. If your rug were to get stained, try dampening the spot using a towel with room temperature water, as hot water could unintentionally felt the rug. Repeat this process until the stain has been removed. In general, hand tufted rugs are sensitive to water due to the latex backing that binds the tufts into place, so try to wet the rug as little as possible.